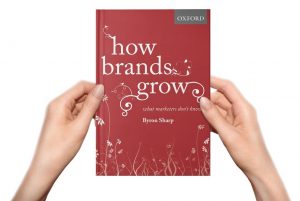 What makes big brands big? How do they do it? It seems as though these companies grow rapidly over night…
For many years marketing as a discipline has been an expensive process of trial and error. This usually involves throwing large sums of money at a campaign, hoping that the 'investment' will yield greater results. Then, it's a matter of measuring these outcomes, where numbers and percentages are often twisted to reflect a rather slim margin of success…
While many companies waste billions pursuing marketing strategies and activities that cannot drive sales, companies such as Mars, Procter & Gamble, Coca-Cola, Turner Broadcasting and many others are experiencing the competitive advantage of evidence-based marketing.
You may be wondering, what does 'evidence-based' marketing even mean? Allow me to explain:
The 'evidence' in evidence-based marketing refers to empirical findings generated from market research that are used as the basis of evidence-based marketing strategies. These strategies provide more rigour and certainty to marketing plans and campaigns, because they are based on real-world results. After all, data doesn't lie.
Now, you may be thinking what does this mean for my organisation? How can this benefit me?
For decades brands and business owners have been conned by the 'creative geniuses' of ad agencies who spruik the latest fad's that often lack any solid basis. Evidence based marketing on the other hand, is encompassed by empirical marketing theory that has been tried and tested in the real world. So, you can rest easy knowing these strategies aren't being pulled out of the sky.
What does Marketing Catalyst have to do with it?
Our agency's marketing solutions and strategic development are underpinned by evidence-based marketing. Evidence based marketing derives from marketing science. This 'marketing science' was developed by research professors at the Ehrenberg Bass Institute, based at the University of South Australia.
Marketing science, in essence, outlines empirical laws of consumer behaviour that have been observed across a number of different markets, categories and countries. These laws provide an evidence-based framework for decision making so that we can develop effective marketing solutions that work.
The institute's research is used and supported by leading brands across the globe including: Coca-Cola, Kellogg's, Colgate, Proctor & Gamble, Kraft, Network Ten and Mars.
These empirical marketing laws are outlined below:
Double Jeopardy Law– brands with minimal market share have fewer customers and those customers are also less loyal to brands.
Retention Double Jeopardy Law– All brands lose customers and this is proportionate to brand size.
Pareto Law (60/20)– 60% of sales derive from the top 20% of brand customers (heavy buyers). The remaining 40% of sales derive from the bottom 80% of brand customers (light buyers).
Plus, many more that you can learn about here 
But my company isn't a global giant, does this still apply to my business?
The answer is an emphatic "yes". By its very nature, the science is the science. The laws of marketing science apply to all businesses across all categories. If anything, it is even more important that small brands pay attention to the laws of marketing science so that they too, can grow their sales and build their brand.
What if I don't have a big marketing budget like Kelloggs or Coca-Cola?
You don't need to have the marketing budget of a global giant to execute the principles of marketing science. They are available to anyone who understands what they are, and how to apply them. Here at Marketing Catalyst, we put these evidence-based insights into practice for our clients. This grows their sales, and over time, builds their brands.
These laws underpin our strategic development so we can deliver effective marketing results for your organisation.
If you'd like to know more, drop us a line here